New podcast series to open up conversation on veterans' mental health
Posted by See Me, 30 March 2023
A new podcast series is taking the real-life experiences of Scotland's armed forces veterans to highlight the issue of mental health stigma in the community – and encourage those who are struggling to seek help.
Veteran Voices, created by See Me, the national programme to end mental health discrimination, and Dundee-based In Motion Theatre, is inspired by a series of conversations with veterans from across Scotland, who shared their experiences of mental health, stigma, and the challenges they have faced in transitioning to civilian life.
The conversations were then written as creative monologues by Lisa Nicoll, playwright and director of In Motion, and performed by actors. The six podcasts will be released each week, starting on Thursday 30 March, through In Motion and See Me's podcast channels on Apple podcasts, Spotify and other popular streaming platforms.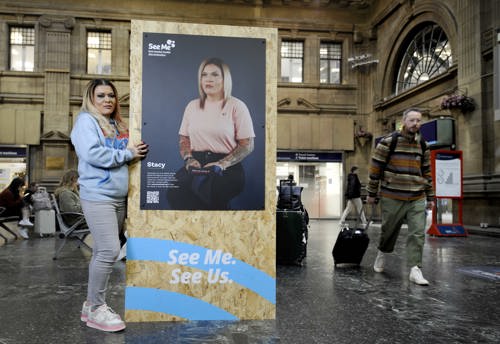 Royal Air Force veteran Stacy Pettiford, from Midlothian, was one of the project's participants. Stacy joined the RAF at the age of 16, and served for six years – four of which were good, and two 'terrible' after she began struggling with her mental health.
When she left the forces, Stacy didn't know how to cope, and spent 16 years struggling with her mental health – but she didn't know what to do. She came from a background where you 'just got on with it' and didn't know how to ask for help.
She now works for Combat Stress, supporting other veterans with their mental health.
Moving forward
Stacy said: "I had never in my life told my story and I knew it was time for me to move forward and to leave my past behind once and for all.
"I am so glad I chose to do this with the guys at the campaign because most importantly I may have helped other veterans that have suffered trauma outside of combat and they dealt with me and my story with the utmost respect and dignity.
"This entire process was entirely therapeutic for me, and I am so glad I finally spoke up."
The podcast follows up from See Me's The Guard campaign, which launched in November, exploring stigma which many veterans who struggle with their mental health face and encouraging more to seek help when they need it.
Veterans all over Scotland have said that not wanting people to know what they are going through, and worries about being seen as weak, stop veterans reaching out when they struggle with their mental health.
To create the podcasts, Lisa collaborated with Dundee-based Stand Easy, a support organisation for wounded, injured and sick veterans and their families, using drama activities to help their recovery.
Rewarding
Stand Easy's Josef Boon said: "The veterans who took part in this project found it very rewarding to express themselves through a different medium. Some did struggle with the process but Lisa managed to guide them in a safe and creative way to overcome the hurdle.
"It was truly inspirational seeing them explore expressing themselves through writing.
"Our veterans thoroughly enjoyed the project and would gladly do it again."
In Motion Theatre director Lisa Nicoll said: "Veteran Voices has been created to allow more truths to be told from voices that often aren't heard and from people who sometimes feel they are being disregarded because of a stigma attached to them because of being a veteran. 
"These are stories to empower, tell the truth amongst the struggles and let others who listen to the podcasts see there is a community of people out there that people can engage with and that they are not alone. These monologues allow the writers to fearlessly speak their truth without judgement and let their voices heard." 
Reach out for help
Maeve Grindall, project officer for communities and priority groups at See Me said: "From their time in the forces, veterans have been trained to show no signs they have been struggling. They can see themselves as a failure for doing so, and that they are letting the side down if they reach out and ask for help.
"When serving, the environment encourages people to show no vulnerability, and this remains with people, but when they leave the forces the support networks can go.
"The Veteran Voices podcast brings together a collection of stories which show that it's okay to talk about mental health, and the other challenges which people leaving the forces often face. We hope that the series of monologues will show veterans across Scotland that they aren't alone – and that they can reach out for help when they need it."
You can listen to Veteran Voices through In Motion Theatre's podcast channels.
You can read more about veterans' mental health, including sources of support, and hear the podcast at seemescotland.org