Duke and Duchess Speak to Young People About Their Mental Health
Posted by See Me, 23 October 2015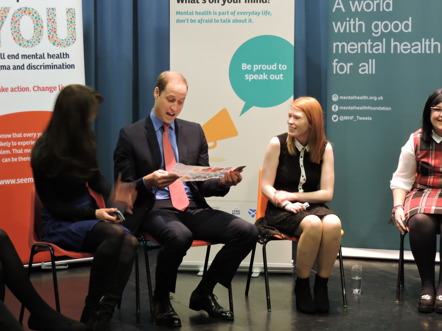 THE DUKE and Duchess of Cambridge today visited Dundee, meeting young people to discuss what needs to be done to change the way people view mental health.
The Duke and Duchess met with young volunteers from See Me at the Dundee Rep Theatre to hear their stories and talk about the need to change the way people their age perceive mental health.
They discussed the need for a culture shift in Scotland, with open discussions on mental health starting in schools.
Currently one in every ten young people has a mental health condition, but there is a lack of support when young people do seek help.
The volunteers spoke with the Royal Couple about the need for good adults in the lives of children with mental health conditions, who can listen and help them to get the support they need.
The Duke and Duchess learned about our new What's on Your Mind card, created by the volunteers, to be used in pilot schools across Scotland, where it aims to make mental health a topic of everyday conversation.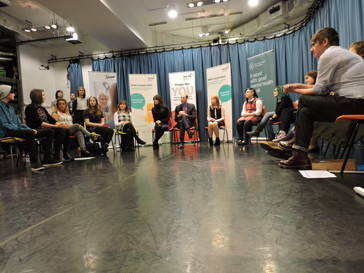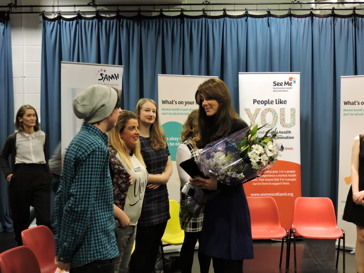 Lynne Fox, 24, one of our young volunteers taking part in the session with the Duke and Duchess, said: "Having personally faced stigma and discrimination after being diagnosed with a mental health problem at 16, I want to make a difference so other young people don't face the same isolation, fear and loneliness as I did because of the stigma attached to mental health.
"With See Me we have created resources for other young people, to help them make sense of their feelings in what can be a difficult and confusing time. There is no right or wrong way to feel, we all feel and have emotions and it's OK if you are not OK.
"Young people can and do suffer with mental health problems, age does not discriminate. There is no reason to feel ashamed, guilty or isolated, you are ill and can't blame yourself, you are not alone.
"Young people deserve to get help, but they need to know where to get his help. This is why we created the What's on Your Mind card, which we showed to the Duke and Duchess today.
"People as high profile as the Duke and Duchess speaking about mental health shows there is no shame in talking about it, you don't have to hide away and suffer in silence."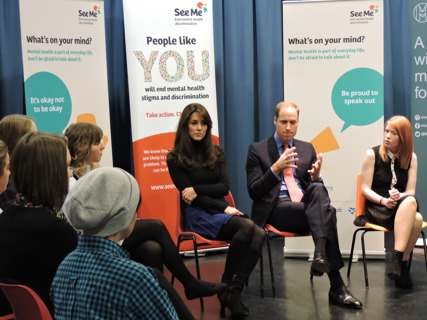 Judith Robertson, See Me programme director, said: "We want to see a culture shift in Scotland around mental health. This needs to start in schools so children and young people are having open conversations from an early age.
"To help young people recover from mental health conditions they need care and support quickly, that means having adults who can speak to them about mental health and help them to get the right care.
"At the moment it can be difficult for young people to get the help they need and they can receive negative reactions when they do speak out.
"One in ten young people experience a mental health problem, but nine in ten experience stigma and discrimination.
"Having the support of the Duke and Duchess puts a spotlight on these issues and it is great to see them put time and effort in supporting the young people to tackle mental health stigma."
At the theatre they also met performers from the Scottish Mental Health Arts and Film Festival.
They then participated in an anti-bullying session with respectme  at The Corner, before joining a meeting of the Young Scotland in Mind Coalition chaired by SAMH and Barnardo's at The Shore.